Please note: this is a repost from 2015. I am reposting it to help publicize Murdered For Being Different, a sensitive, thought provoking and nuanced BBC3 dramatization of the vicious real-life attack on Sophie Lancaster and her boyfriend, Robert, as well as their relationship. I am a supporter of the S.O.P.H.I.E. Foundation, but I should also point out that I do not have any personal connections to Sophie or her family. This post was written with the permission of the S.O.P.H.I.E Foundation. Murdered for Being Different is available to watch now on BBC3 iPlayer.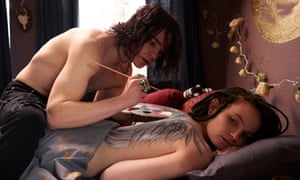 A scene from Murdered for Being Different, where Rob  (Nico Mirallegro) paints wings on Sophie's (Abigail Lawrie's) back, after telling her: 'You're an angel. You need wings.' Photograph: Des Willie/BBC.
Original post:
I have decided to write about a cause very close to my heart- the Sophie Lancaster (S.O.P.H.I.E) Foundation. I feel very strongly about the work and aims of this  Foundation- which is also a registered charity- as it sprang up from the mindless, and mindlessly cruel, senseless and evil murder of a young girl in 2007. A young girl who had the  ambition, drive and imagination of any other young girl, but who was killed simply because she looked 'different.' Her name was Sophie Lancaster, and she and her boyfriend were set upon by a gang of youths in a park, just because they dressed in a 'Goth' style. She was attacked after trying to defend her boyfriend, and later died from her injuries. Regular readers of this blog- and of my series- will know that I have a
major Goth-identified character
within my novels. I have also written posts on Goth style, (
here,
for instance,) read books on Goth culture, and explored alternative lifestyles and subcultures through my writing. I have included links to the S.O.P.H.I.E Foundation- as well as
links on Gothic subcultures
– on my official website, and I wear my own S.O.P.H.I.E wristband with pride. I  truly believe that people should be able to express themselves how they want, and identify how they want- be it through clothes, makeup, music, culture, religion, belief, or way of being, as long as it is not harmful or offensive to others. This is a belief that I hold dear, and it makes Sophie's callous, brutal death all the more shocking to me.
 I, and surely many other young people, remember exactly where I was when I read about Sophie's murder- a bit like how other people recall where they were, and what they were doing, at the time of the assassination of Kennedy, or when John Lennon was shot. It made national news. For me, it had the same world-rocking gravitas, the same sickening gut-clenching horror. (I was sitting on a train at the time.) I was still a student, with dreams of my own, course deadlines, essays to write, friends, family who loved me- just like Sophie. And I remember how shocked and disgusted I felt reading the details of her murder. I was utterly heartbroken.
'How can such a thing happen?' I wondered. 'How could someone be capable of such a thing?' The sad, sad truth is, it does happen- whether it's a young gay man, hurt in a homophobic attack, someone brutalized by a racist thug, or an elderly pensioner mugged. People ARE capable. There seems to be no limit as to how much other human beings can hurt and harm other human beings.
All we can do is try to make sure that Sophie did not die in vain. That her most unnecessary death can give birth to a most necessary cause- to end hate crime, once and for all. And to make sure that Sophie leaves a legacy that can- and hopefully will- change society for the better. The Sophie Lancaster Foundation has already done so much. Money raised through fundraising events, donations and the purchases of special S.O.P.H.I.E wristbands and other items goes towards setting up workshops in educational institutions across the UK. These workshops will explain about Sophie's life and legacy, and inform young people about the dangers of hate crime. S.O.P.H.I.E itself is an acronym for the Foundation's ultimate goal- to 'Stamp Out Prejudice, Hatred and Intolerance Everywhere' and Sophie's mother, Sylvia, was awarded an OBE for her tireless efforts to make this a reality. (She is now on the Hate Crime Advisory Board for the UK.) Sophie's murderers are in jail.
 In the wake of her death, there has been a novel based her murder ('
Hate
' by Alan Gibbons, aimed at children and young adults,) and a play (
'Black Roses' by Simon Armitage
, which has been performed at the Southbank.) Numerous alternative singers and performers have shown their support for S.O.P.H.I.E, and Courtney Love has even worn a S.O.P.H.I.E wristband live on TV.  Makeup company Ilamasqua have brought out a
special 'S.O.P.H.I.E' makeup range,
with proceeds going to fund the campaign. In 2009, the Bloodstock Festival
named one of their stages after Sophie
. Of course, none of this can bring Sophie back, but at least it means that she will never be forgotten.
There is no doubt in my mind that Sophie was a bright, beautiful, and very much loved human being. Support the Foundation today, and make sure that we end hate crime once and for all.
Please click here to find out more about the Foundation, and how you can donate, and buy a wristband and other merchandise here (with proceeds going towards the Foundation.)
Rest in peace, Sophie.